After just missing out on Tokyo 2020 Canada's men's basketball team decided to double down on their ambitions to make it to Paris 2024. Now with the chance to make history with an undefeated World Cup qualification campaign, early signs show their plans are working.
3 July 2021 is a date that will forever be seared into the memories of Canadian basketball fans.

On that day, Team Canada, seeking to make its first Olympic appearance in the men's basketball event since Sydney 2000, fell to Czechia in overtime in the FIBA Olympic Qualifying Tournament (OQT).

Despite mounting a frenetic comeback from nine points down Canada's attempts to stay in the game ultimately petered out in the extra frame allowing the Czechs to take the win 103-101 and shattering Canadian hopes of making the Tokyo 2020 Olympics.

With eight NBA players on the roster, the team that stumbled was widely hailed to be a 'golden generation', and yet they had once more failed to do what teams prior had already attempted.

Just like their failed Tokyo bid, the previous Olympic cycle had been uncomfortably familiar.

In the semi-final of the 2015 FIBA Americas Championships, Canada slipped to Venezuela denying them a direct ticket to Rio 2016. Then at the last-chance OQT in Manila a year later, they were defeated by France in the final, dashing dreams of Games appearance.

The Canadian men's basketball team had, in essence, developed an Olympic problem, and with the pain of the Tokyo slip-up still lingering they decided to do something about it.
Canada basketball: Building for Paris 2024
If the last two cycle failures had shown anything it was that continuity was a must.
Identifying Paris 2024 as their ultimate goal, Canada Basketball started to map out its route to the Games.
The safest path to the Olympics for any men's basketball team is by winning the 2023 FIBA World Cup. As well as being crowned world champion victory also guarantees a spot in France.
Should that not happen, tickets to Paris will also be given to the two best-finishing teams from the Americas meaning turning out a strong team for the World Cup is a must for any country with Olympic hopes.
With that in mind, in May 2022 Canada Basketball landed a new-look program made up of 14 players who were all committed three years of their time, playing in every international window except when they were contractually unavailable.
NBA stars like R.J. Barrett, Jamal Murray and bright, young talent Shai Gilgeous-Alexander signed up to the cause creating what was penned a "summer core".
When those players weren't available a "winter core" was also developed to step in ensuring a consistency that, for the years until now, was felt to be missing. Speaking to the value of that constancy Senior Men's National Team Head Coach Nick Nurse said at the time of the announcement: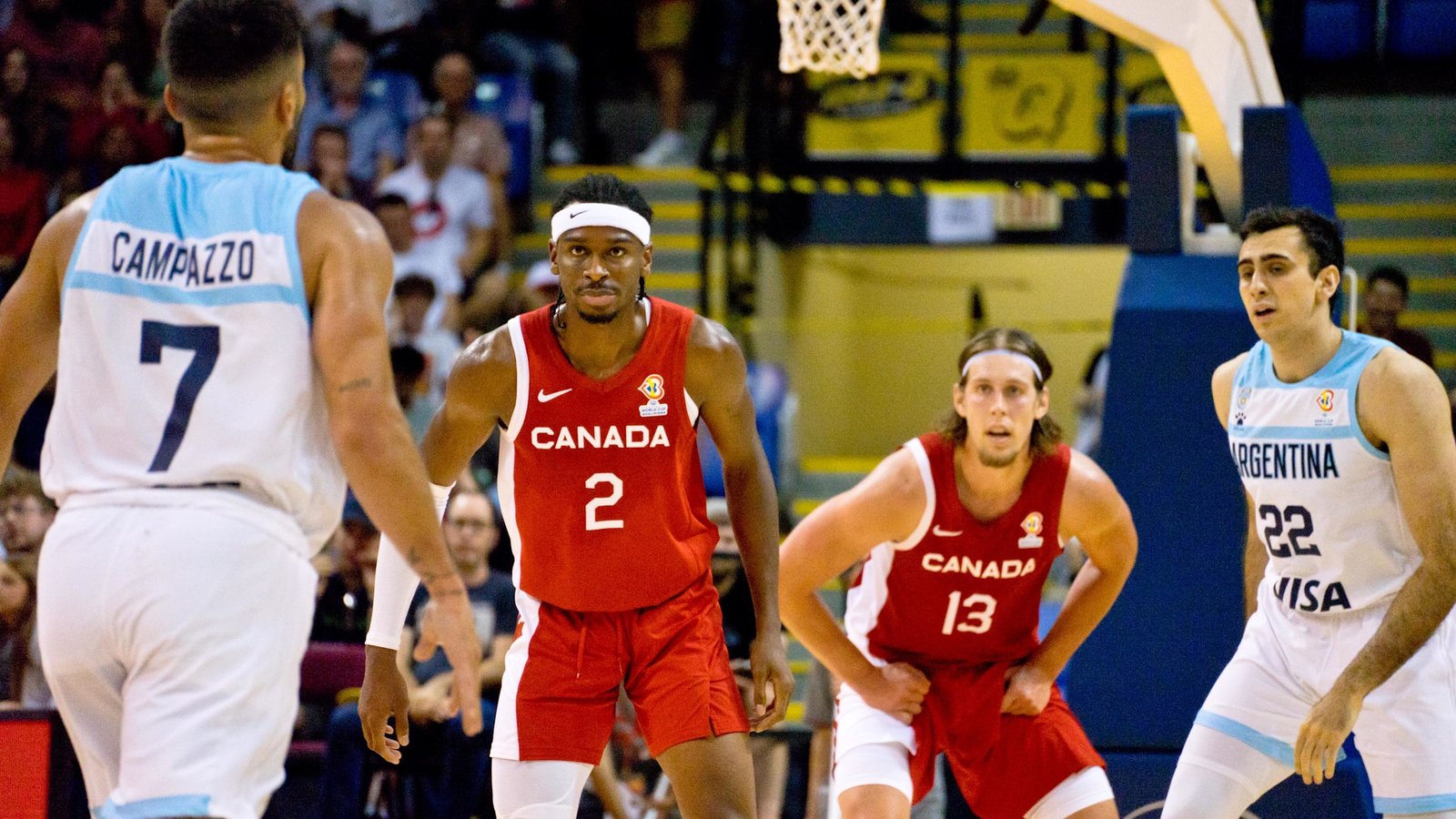 "The true value of chemistry, camaraderie and continuity cannot be overlooked when building any team. By assembling committed core groups of players and staff to represent Canada over the next several years, we firmly believe will position this program for sustained success, both now and in the future."
Canada Basketball Senior Men's Team 14-player core:
Nickeil Alexander-Walker – Minnesota Timberwolves
R.J. Barrett – New York Knicks
Khem Birch – San Antonion Spurs
Oshae Brissett – Indiana Pacers
Dillon Brooks – Memphis Grizzlies
Luguentz Dort – Oklahoma City Thunder
Zach Edey – Purdue Boilermakers
Melvin Ejim – Unicaja Baloncesto Malaga
Shai Gilgeous-Alexander – Oklahoma City Thunder
Cory Joseph – Detroit Pistons
Jamal Murray – Denver Nuggets
Kelly Olynyk – Utah Jazz
Kevin Pangos – Olimpia Milano
Dwight Powell – Dallas Mavericks
Canada Basketball: On the precipice of an historic World Cup qualifying campaign
The measure of success in any strategy is in the results, and Team Canada have already showed that they might have just landed on a winning formula.
The red-and-white will head into the final World Cup Qualifying window the only team from the Americas already qualified for this year's World Cup jointly hosted by Japan, Philippines and Indonesia.
They secured their slot in Window 5 thanks to a flawless qualification campaign. Their record currently sits at 10-0 having not dropped a single game since the process began back in November 2021.
But perhaps the best proof of Canada Basketball's plans coming to life was when the summer core entered the fray in Window 4 in August 2022 ahead of a meeting against No.7 ranked side Argentina.
The 2019 World Cup silver medallists, also buoyed by the summer break, arrived with nine of its 12 players from its Tokyo 2020 Olympic roster presenting Canada its greatest challenge across the qualifying period.
Though nothing hinged on the game still the Canadians rose to the occasion. OKC point guard Gilgeous-Alexander in particular flashed his promise to help clinch a 99-77 win and keep the winning-streak alive.
While it might be tempting for the Canadians to play it cool in their final two qualifying games against Argentina and Venezuela on 23 February and 26 February respectively, the country hungry to take up a place in next year's Games are unlikely to do so.

Should Canada stay undefeated at the close of the final qualifying game they will become the region's first ever team to complete the qualification cycle undefeated. They already hold the record for the most consecutive wins (13) in the Americas Qualifiers having won their last three games of the 2019 World Cup Qualifiers.

To claim such a record would be an impressive feat for Canada in its transformation period, and would certainly help in protecting the momentum they have for so long been after.

But there's also no doubt that clinching that slice of history would fire like a warning shot to the rest of the world. It would signal that this time, Canada really do mean business and when the World Cup comes they'll almost definitely be ones to stop.