The Orioles are making roster moves like they are going out of style. I'll refrain from discussing Anthony Bemboom today when he could be gone tomorrow. Backup catchers last about as long as a Cartwright girlfriend these days, so let's focus on some guys that should be here when this article posts.
Baltimore has pieced together a winning record over the last two weeks without Ryan Mountcastle, Cedric Mullins, and James McCann. The Orioles scratched Gunnar Henderson on Sunday with the stomach flu, and they have played nearly the duration of the season without Mychal Givens or Dillon Tate.
Ryan O'Hearn and Aaron Hicks have both lifted the Orioles over this difficult stretch. Both players went deep last night, and Hicks drove in half of Baltimore's eight runs. Winning teams need unexpected contributions over the course of 162 games, but will either of the pair stick around beyond this season?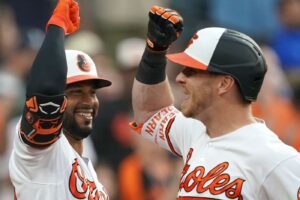 Camden Chat's John Beers wrote yesterday about some uncertainty at first base. Ryan Mountcastle has failed to take a necessary step with plate discipline, and his recent IL trip with vertigo leaves little room for speculation. Mountcastle has quickly become one of the biggest question marks on a team hoping to continue its ascent toward the peak of the AL East.
Ryan O'Hearn has stepped in and emerged as a middle-of-the-order bat capable of sparking the offense on a nightly basis. He entered last night's game in Tampa with a .349 average and a 1.003 OPS. His exit velocity ranks in the top half of the league, and his ability to play corner outfield in a pinch only increases his value.
The Orioles can maintain control of O'Hearn through next season if he remains in their plans. Baltimore has yet to signal that it would permanently shift Anthony Santander to first base, and the same can be said for Heston Kjerstad. O'Hearn, even with a drop off, would likely still nudge Josh Lester or a lesser outside candidate for an opportunity to battle Mountcastle next spring.