Understanding Acral Lentiginous Melanoma: Symptoms, Diagnosis, and Treatment
In this article, we will delve into the world of acral lentiginous melanoma, a rare but serious form of skin cancer. We'll explore its symptoms, diagnosis, treatment options, and much more to provide you with a comprehensive understanding of this condition.
1. Introduction
Skin cancer is a prevalent concern, with various types that can affect people of all backgrounds. Among these, acral lentiginous melanoma stands out as a rare and unique form of skin cancer.
2. What is Acral Lentiginous Melanoma?
Acral lentiginous melanoma, also known as ALM, is a subtype of melanoma that primarily occurs on the palms of the hands, soles of the feet, or under the nails. Unlike other types of melanoma, it is not associated with sun exposure.
3. Risk Factors
While the exact cause of ALM is still unclear, there are some risk factors associated with its development. These include genetics, family history of melanoma, and certain ethnic backgrounds, such as African, Asian, and Hispanic populations.
4. Symptoms to Watch For
ALM often starts as a dark, irregularly shaped mole or pigmented patch on the palms, soles, or nail beds. It can be mistaken for a benign mole, making early detection challenging. Therefore, it's crucial to keep an eye out for any changes in your skin, such as changes in color, shape, or size.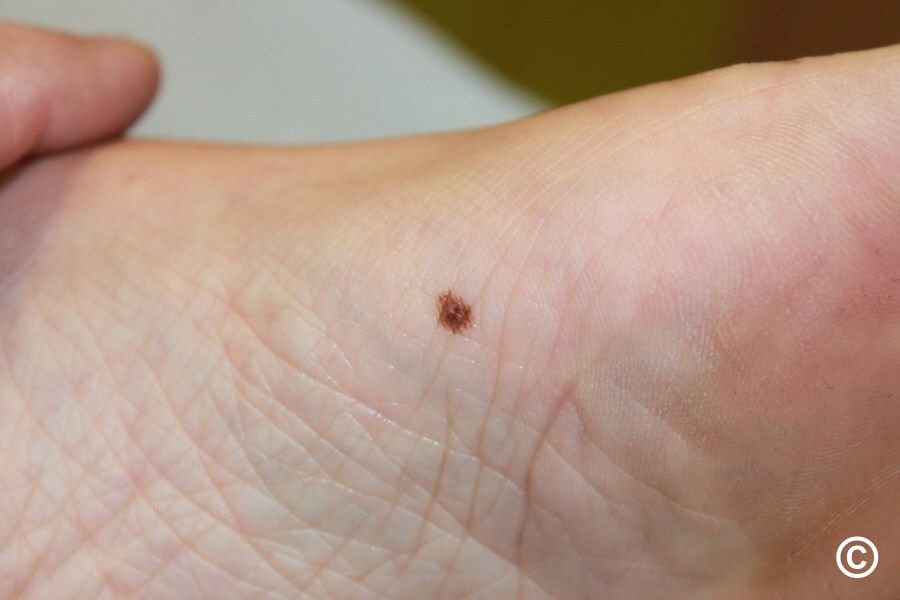 5. Diagnosis
Diagnosing ALM typically involves a biopsy, where a small tissue sample is taken for examination under a microscope. Dermatologists and oncologists are skilled in identifying the characteristics of ALM through this process.
6. Staging
Once diagnosed, ALM is staged to determine the extent of its spread. Staging helps guide treatment decisions and prognosis.
7. Treatment Options
Treatment for ALM varies depending on the stage and location of the cancer. Options may include surgery, radiation therapy, immunotherapy, targeted therapy, or participation in clinical trials.
8. Surgical Procedures
Surgery is often the primary treatment for ALM. It involves the removal of the cancerous tissue, which may also include a margin of healthy tissue to ensure all cancer cells are removed.
9. Radiation Therapy
Radiation therapy uses high-energy beams to target and destroy cancer cells. It may be recommended as an adjunct to surgery or as a primary treatment in certain cases.
10. Immunotherapy
Immunotherapy harnesses the body's immune system to fight cancer. It has shown promising results in the treatment of ALM.
11. Targeted Therapy
Targeted therapy focuses on specific genetic mutations in cancer cells, disrupting their growth. It is an evolving field in the treatment of ALM.
12. Clinical Trials
Participating in clinical trials can provide access to cutting-edge treatments and therapies that are still in development.
13. Living with Acral Lentiginous Melanoma
A diagnosis of ALM can be overwhelming. It's important for patients to have a strong support system and access to resources that can help them cope with the physical and emotional challenges of the disease.
14. Prevention
While it may not always be possible to prevent ALM, reducing sun exposure and being vigilant about changes in your skin can contribute to early detection and better outcomes.
Conclusion
In conclusion, acral lentiginous melanoma is a rare but potentially serious form of skin cancer that requires early detection and prompt treatment. Understanding the risk factors, symptoms, diagnosis, and treatment options is crucial in the fight against this disease.
FAQs
Is ALM more common in certain populations? Acral lentiginous melanoma is more prevalent in African, Asian, and Hispanic populations.
Can ALM be prevented? While prevention is not always possible, early detection is key. Regular skin checks and sun protection can help.
What are the survival rates for ALM? Survival rates vary based on the stage of diagnosis. Early detection leads to better outcomes.
Are there any new treatments on the horizon for ALM? Yes, ongoing research and clinical trials are exploring innovative treatments for ALM.
Where can I find more information and support for ALM? You can reach out to dermatologists, oncologists, and cancer support organizations for information and assistance.