Why Are Lichens a Good Pioneer Species After a Volcanic Eruption?
Explore the fascinating role of lichens as pioneer species after volcanic eruptions. Learn how these resilient organisms contribute to ecosystem recovery and stability.
Introduction
Volcanic eruptions are some of the most powerful and destructive natural events on Earth. They can devastate entire landscapes, leaving behind desolation and destruction. However, amidst this chaos, nature has a remarkable way of rebounding and regenerating. One key player in this process is the humble lichen. In this comprehensive article, we will delve into the world of lichens and uncover why they are a good pioneer species after a volcanic eruption.
The Remarkable Resilience of Lichens
Lichen Basics
Before we dive into their role as pioneer species, let's get to know lichens a little better. Lichens are unique organisms that result from a symbiotic relationship between fungi and algae or cyanobacteria. This partnership allows lichens to thrive in some of the harshest environments on Earth, making them true survivors.
Thriving in Adversity
Lichens have an exceptional ability to endure extreme conditions, including high levels of radiation, low temperatures, and minimal moisture. These qualities make them perfect candidates for colonizing barren landscapes left behind by volcanic eruptions.
Soil Formation and Stabilization
Breaking Down Barrenness
One of the primary reasons lichens are considered excellent pioneer species is their role in soil formation. As lichens establish themselves on volcanic rocks and ash, they begin secreting organic acids that gradually break down the substrates, paving the way for soil development.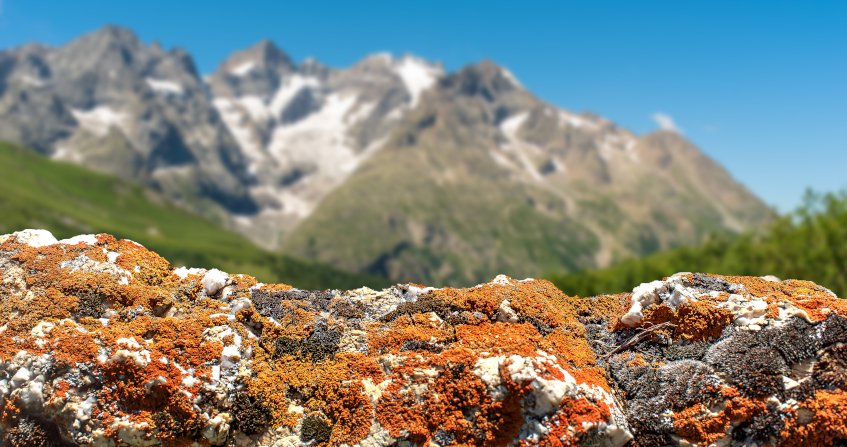 Soil Stabilization
In addition to soil formation, lichens also play a vital role in soil stabilization. Their intricate network of filaments binds the soil particles together, preventing erosion and landslides, which are common post-eruption hazards.
Nutrient Cycling
Nutrient Pioneers
Volcanic soils are often deficient in essential nutrients required for plant growth. Lichens, with their ability to absorb and retain nutrients from the atmosphere and rainwater, act as pioneers by kickstarting the nutrient cycle in these barren landscapes.
Paving the Way for Other Species
As lichens enrich the soil with nutrients, they create favorable conditions for other pioneer plant species to establish themselves. This cascading effect leads to the gradual recovery of the ecosystem.
Biodiversity Boost
Inviting Other Species
Lichens not only aid in soil development but also provide a physical substrate for other organisms to colonize. In this way, they create microhabitats that invite insects, small plants, and even mosses to join the ecological revival.
A Stepping Stone
In the grand scheme of ecosystem recovery, lichens act as stepping stones, facilitating the return of diverse flora and fauna to the once-barren volcanic landscapes.
Lichens and Climate Change
Carbon Sequestration
Lichens contribute to combating climate change by sequestering carbon dioxide from the atmosphere. Their slow growth and ability to capture carbon make them valuable in offsetting greenhouse gas emissions.
Climate Resilience
Moreover, lichens' adaptability to extreme conditions positions them as potential survivors in an era of climate change. Their presence in volcanic ecosystems may offer insights into how other habitats can adapt to a changing climate.
FAQs
Q: Do lichens have any medicinal properties? A: While some lichens have been used in traditional medicine, it's essential to consult experts before using them, as many lichens can be toxic.
Q: Are all lichens the same? A: No, lichens come in various species, each adapted to different environments and playing distinct ecological roles.
Q: Can lichens grow on any type of volcanic rock? A: Lichens show preferences for specific types of rocks, depending on their tolerance to different mineral compositions.
Q: Do lichens have any economic value? A: Yes, lichens have been used historically for dyeing and perfume-making, and some species are indicators of air quality.
Q: How long does it take for an ecosystem to fully recover after a volcanic eruption? A: Ecosystem recovery can take decades to centuries, depending on factors such as the severity of the eruption and the availability of suitable pioneer species.
Q: Can lichens survive in polluted environments? A: Lichens are sensitive to air pollution, and their presence or absence can serve as an indicator of air quality.
Conclusion
In the aftermath of a volcanic eruption, where devastation seems all-encompassing, lichens emerge as unsung heroes of ecological restoration. Their remarkable resilience, ability to kickstart soil formation, and contribution to biodiversity and climate change mitigation make them indispensable pioneer species. As we marvel at the tenacity of these organisms, we also gain a deeper understanding of the intricate web of life and its ability to rebound even in the face of nature's most cataclysmic events.